Naughty America has been known as one of the top porn sites in the adult industry for quite some time and they are proving why they deserve a top spot with Naughty America VR! Be a part of paving the way with one of the most intense and futuristic VR sites there is. Read our Naughty America VR review to find out more about what this site has to offer.
Thousands of Quality VR Videos
180° stereoscopic 3d videos
Top name pornstars
Compatible with multiple devices
Some Scenes Cost Extra
Locked Channels
---
Naughty America VR Porn Review
The Naughty America VR review shows Naughty America took a step in the right direction when they got into the VR porn game. This site has been pumping out great content for a long time and they want to keep their top spot, so they started to make immersive porn. You put on your headset and you feel like you're in the action with your favorite model. Check out all the hot content and extras you can get down below!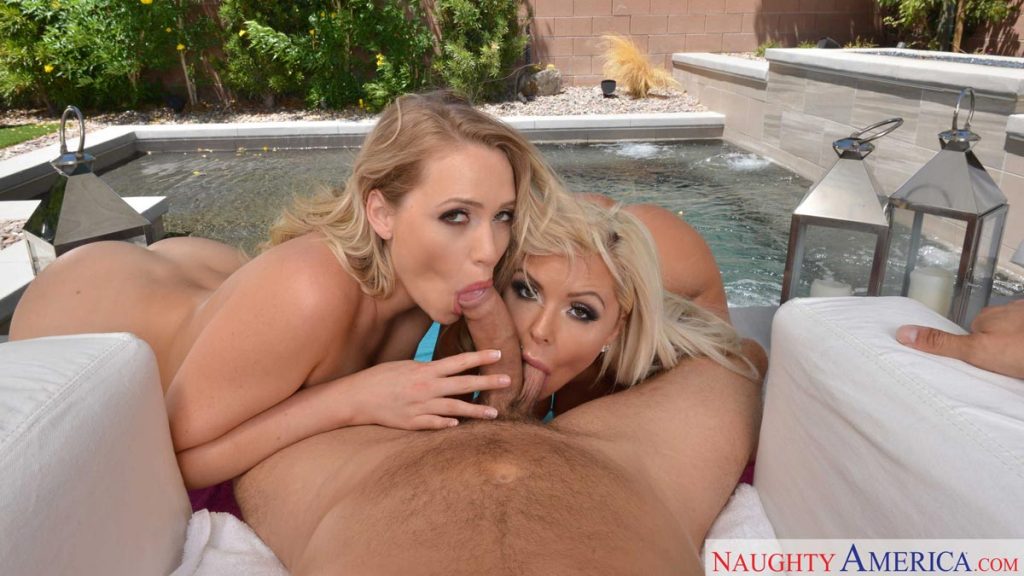 ---
What are the Naughty America VR membership options?
There are four different options when you check out the join section to become a member. Once you read the Naughty America review you may want to join tonight!
You can join with a 3-day limited trial so you want to get all the fun stuff but you can have access to some. Next is the one-month trial which has all-access, and the best-priced option would be the full year membership.
If you love the site a lot, you can even pay a little extra for 12 months and 7 bonus sites!
---
How to pay for a Naughty America VR membership?
Naughty America takes a few different payment methods if you want to be a member of their site. You can pay with an online check our any major credit card. You can even use cryptocurrency as well as an unused gift card. There are hundreds of cards they take in exchange so check out their list and see how you can get your membership with that!
---
What you get with Naughty America VR
Virtual reality is something that all fans can get behind. There is something special about putting on a headset and being taken to another world where you can feel like you are fucking all the hottest babes you have ever wanted to fuck.
With Naughty America VR you get access to 200+ VR videos, some of the biggest names in porn and more. There is so much that VR can offer and when you use one of the biggest and most popular sites in adult entertainment you get quality and quantity! Check out the details in the Naughty America VR review below.
---
Naughty America VR Holograms Review
Naughty America VR holograms are an interesting addition to their site. They are compatible with a few devices like HTC Vive, Oculus Rift and the android app. You can click on any of the images and you will see them as holograms when you use the apps that are listed. You can see some babes on stripper poles getting naughty, there are sexy buff men dancing around, and sometimes there is even more than one sexy pornstar in the mix!
---
100's of Exclusive American VR Porn Videos
There are hundreds of videos listed on the site and they are all really hot and in a ton of different genres. There are anal scenes, threesome scenes, bubble butt, brunette, glasses, etc.
With daily updates, many would assume that you have access to all of the videos when you buy a membership but that is sadly not the case. When Naughty America VR adds new videos, they move older ones to locked channels that members then have to pay extra to access.
---
Naughty America VR Video Downloads
The Naughty America VR review shows many of the Naughty America VR videos are actually not available to stream either. You have to download each one meaning you have to take up your space to use the content instead of streaming from the site.
Some of the videos can be in excess of 5Gb so you may want to preview them and make sure that you will like it before you download it and take the time and space up.
---
Watch 250+ Hottest American Pornstars in VR
There are 250 plus pornstars listed on the site right now and a lot of them are big-name babes like August Ames, Abella Dangers and Abigail Mac. That's a lot of top-rated babes on Naughty America VR. With how popular VR porn is becoming fans can only hope to see that list grow even more!
When you go to the VR Pornstar page you can see all the babes listed with full-body shots as their picture. Pick your favorite babe and find out all of her stats, what categories she performs in on the site and a pretty detailed bio about her. If you scroll down on her profile you can even find all the latest scenes that she has been in.
---
Download All of Naughty America VR Videos
Not only can you download all of the content you have to if you want to watch it and it is unlocked. If you stay up to date on all of their daily updates, and you have space then you can download it.
If you don't stay current, then one of your favorites may move to a locked channel and you would have to pay to download it for your personal use.
---
Mobile Experience Review
The Naughty America VR mobile experience reviewed is pretty easy and simple to use. There is a list of all the latest updates right on the front page with descriptions of each one. You can check out which headsets are useable with their content and even follow them on social media.
---
The Bottom Line About Naughty America VR
Naughty America VR is trying to stay ahead of the game and offers a lot of great things to their members like daily updates and the hottest babes in VR. What are you waiting for? Subscribe to Naughty America VR now and enjoy a whole new world of porn.