If you're surfing the free porn sites often you have surely seen several amazing porn video ads playing in the sidebar. As a regular user of PornHub, I often see ads of popular porn sites such as Brazzers, Reality Kings, Digital Playground, and more. These clips are usually super hot and make you wanna pull out your dick and start jerking off. That's why we have created this article so you can find out which porn videos are behind these Reality Kings ads.
Reality Kings is one of the best porn sites right next to the legendary Brazzers network. After all, it was created by the same company as Brazzers.
Reality Kings Discount
Did you know you can get a 67% discount on Reality Kings membership? Take advantage of our Reality Kings deal and get full access to the Reality Kings network for only $9.99!
---
Top Reality Kings Porn Ads of 2020
Let's get to the point… we've put together a list of most popular Reality Kings ads and found out from which video the ad was made and which are the featured pornstars. In addition, I added some of the photos from the scene and the link so you can watch the full porn video in Full HD.
---
1. Busty Nurse With Grey Hair Gets Fucked Hard – Registered Nurse Naturals by Skylar Vox
The #1 Reality Kings ad features a busty nurse (Skylar Vox) who gets fucked by another male nurse (Jmac) on a red couch in hospital. Watch her big natural tits bounce as she gets fucked by a giant cock. She also loves to suck dick and lick the cum off her glasses after he cums on her face.
---
2. Hot Young Girl Gets Fucked by Fellow Traveller and a Hot MILF While Squirting on Bed – Fountain of Youth by Abella Danger and Alexis Fawx
Alexis is a hot busty MILF that hosts young travelers but she also takes advantage of these horny youngsters and seduces them into sex. In this Reality Kings video ad, she licks young Abella's pussy while she squirts all over her bed. She also enjoys getting fucked by the guy and watches as he fucks silver-haired Abella.
---
3. Lucky Student Fucks Hot Busty Schoolgirl in The Library – Punishing A Perv by Skylar Vox
Sexy schoolgirl in miniskirt is browsing through the books in the library. As she bends over two horny guys try to take a picture of her hot ass. She catches them taking a picture and decides to punish one of the guys by breaking his phone and sitting on his face.
This Reality Kings video ad includes titty fucking, blowjobs, and a lot of hot sex in the library. On the end, the guy even cums on Skylar's face and glasses which are in fact his.
Featured video: Punishing A Perv
Pornstars: Skylar Vox
Release Date: December 1, 2019
---
4. Hot Brunette Hides in Bed And Pretends She's a Sex Toy – But Shes My Fuck Toy by Whitney Wright
Whitney Wright wants her college roommate to fuck her be he doesn't want to because he has a girlfriend. Because he hasn't seen his girlfriend in a while he decides to use a sex toy (a fake pussy) that he got from his girlfriend.
While he's on the phone Whitney hides his toy and his in his bed with only her pussy visible which kinda looks like his sex toy. Unknowingly he starts fucking Whitney because he thinks he's fucking the sex toy. Let's hope his girlfriend won't find out.
---
5. Hot Brunette Gets Fucked While Playing Video Games – Play Me By Katrina Jade
The next Reality Kings ad is about a hot brunette playing video games and getting fucked by her horny boyfriend. Katrina can't stop playing video games, even when her boyfriend starts rips her yoga pants and starts fucking her from behind. Watch sexy Katrina Jade getting fucked hard in her blue yoga pants, suck dick and get titty fucked.
Featured video: Play Me
Pornstars: Katrina Jade, Ramon Nomar
Release Date: June 25, 2018
---
6. Busty Young Brunette With Pierced Nipples Dancing Topless – Like Nobody's Watching by La Serena
If you like young busty girls this Reality Kings ad surely got your attention. Curvey La Sirena is dancing around topless thinking that nobody is watching. As she finds out Ricky is watching her she drops down on her knees and starts sucking his cock.
Watch this hot young girl fucked hard by a big black cock. For the grand finale, she gets cum all over her beautiful face.
---
7. Two Hot Ebony Babes Playing in Pool, Scissoring and Licking Pussy – Dipping And Dripping By Autumn Falls and Scarlit Scandal
Those of you who were looking at lesbian porn might have come across this lesbian video ad from Dipping And Dripping featuring Autumn Falls and Scarlet Scandal. Watch them finger each other, lick pussies, and scissor in the pool. This video is surely one of the hottest lesbian porn scenes on Reality Kings.
Featured video: Dipping And Dripping
Pornstars: Autumn Falls, Scarlit Scandal
Release Date: July 16, 2019
---
8. Busty Black Girl Masturbating In Shower And Getting Fucked by White Guy – Can't Stop Won't Stop Masturbating By Daizy Cooper
This Reality Kings ad is mostly found in the interracial sections of porn sites. Daizy is a horny black girl that just can't stop masturbating. She loves to do it in the shower, living room, on the porch and even behind the couch.
When her young white friend walks in on her while she's masturbating in the shower, she can't resist and fucks him too. Watch Daizy getting fucked hard while her big tits are bouncing and she moans louder than ever before.
---
9. Young Blonde Gamer Girl Gets Fucked By Black Dude – Gamer Girl Needs Dick by Kali Roses
Gamer Girl Needs Dick is another popular interracial Reality Kings ad. Kali gets turned on by her friend's brother and starts masturbating while playing video games. Lil D sees her and gets close so hot young Kali can suck his big black dick. Can Kali keep quiet while she's getting fucked hard and not get busted by her friend?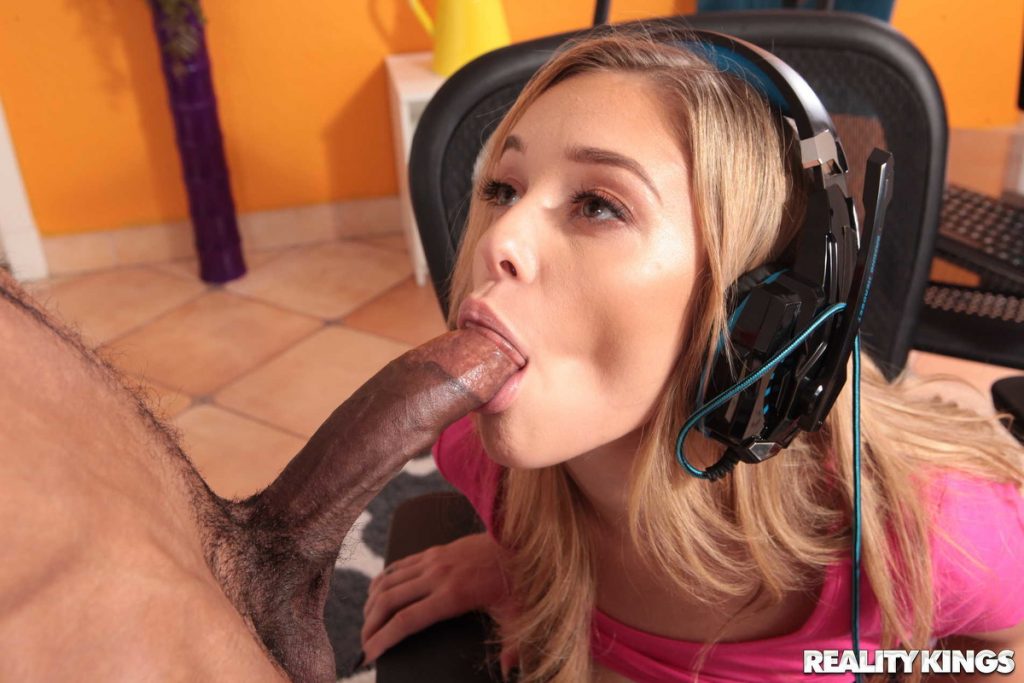 ---
10. Hot Busty Real-Estate Agent Works For Her Cummission – Working For Cummission by Brooke Beretta
This Reality Kings ad is about a busty real-estate agent that seduces their clients into buying property. In the featured video, hot Brooke teases Scott with her nice round butt until he can't resist anymore, lifts her skirt and starts eating her pussy while his wife-to-be is browsing the kitchen.
It doesn't take long until they start fucking while his wife-to-be is in the other rooms. Eventually, she catches them when Brooke is sucking his cock. This real estate agent is really working hard to get her cummission.
---
11. Busty MILF Gets Fucked by Little Santa – The Naughtiest Lil Elf By Alura Jenson
The last Reality Kings ad that made it to this list is about a hot MILF that gets fucked by a small young dude dressed as Santa. This ad is likely to be seen in the MILF or Mature section of porn sites.
When busty Alura Jenson sits on Santas lap he lifts her skirt and starts fingering her. She gets turned on and starts giving his blowjob and jerks him off with her big tits. They start fucking and on the end young Jordi cum in her mouth.
---
Conclusion
These are currently the most popular Reality Kings ad videos on porn tube sites. When new ads are released we will add them to this list. If you find any other porn ads for Reality Kings that you either don't know which video they belong to or you would like us to add it to this list please contact us.
If you don't already have a Reality Kings membership check out our Reality Kings discount. You can save up to 67% with our deal. Those of you who already have Reality Kings and would like to try something new but similar check out our article sites similar to Reality Kings. We've got a deal for each one of them.